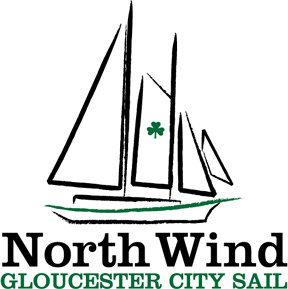 Charter Cruises
In order to fund our primary mission, we also offer charter cruises up and down the Delaware river.  Our typical 2 hours cruises are ideal for private events, or as fund raisers for regional non-profit organizations, such as churches, clubs and veteran groups.
The North Wind Schooner
For over 10 years we have been offering cruises from our berth at  "Freedom Pier" (the old Coast Guard Station) at the foot of Cumberland Street in Gloucester City, NJ.  The vessel is U.S. Coast Guard registered and inspected.
Gloucester City Sail, Inc.
The North Wind schooner is operated by Gloucester City Sail, Inc. a non profit organization.  Our primary purpose is to offer youth of the area with maritime learning opportunities.  The North Wind servers as a schoolship, allowing students from local schools to have the opportunity to learn about the maritime world, presenting them a pathway for future educational and job opportunities.
The students learn teamwork, trust and respect for themselves, others and the environment. The GCS program reaches out to youth in the area, especially those less fortunate and under-privileged.
Gloucester City Sail, Inc.
Board of Directors
Directors
Chairman - Bob Bevans
Secretary/Treasurer - Jack Hughes
Operations - Scott Hughes (Captain)
Leo Tocco
John Rambo
Josh Phillips
Associates
Ed Wrobel
Mitch Brodkin (Captain)
Walt Garson (Captain)
Bill Gannon
Sandy Hughes
Jim Swain
Brian McKnight
Andrea Robinson
Karen Lawrence
Ken Neuhauser
Gloucester City Council Representative
John D. Hutchinson
Legal Advisor
C. Wigginton,Esq.
Recording Secretary
Joanne McKernan