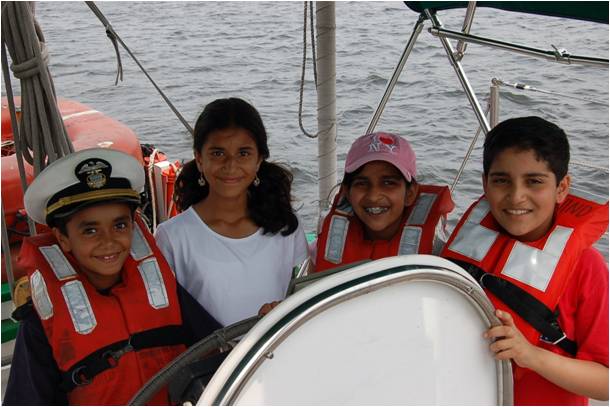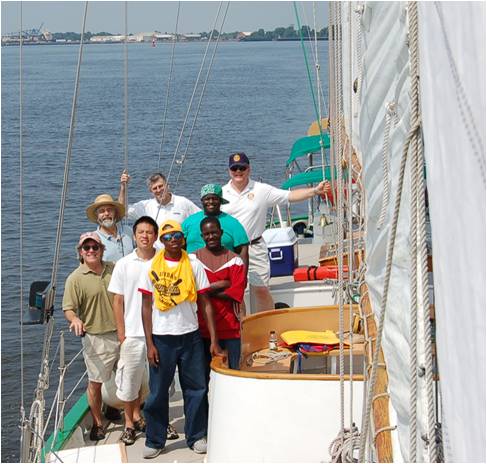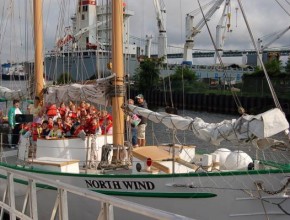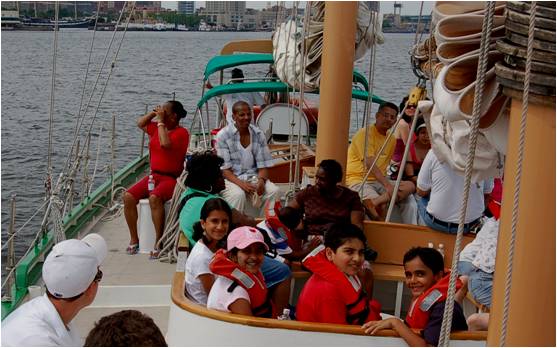 Youth Programs on the North Wind
Gloucester City Sail's core mission is to provide local youth the opportunity to do science, learn history, and work on the Schooner North Wind while sailing on the Delaware River.
Our youth sails are generally 2 hours, and can accommodate up to 27 youth from 5th to 12th grade. Youth will have the opportunity to help raise sails, learn some of our nautical terms and procedures, and participate in 2-3 educational "stations" ranging from sailing/boating physics, water chemistry, river ecology, historic topics as well as a taste of life as a schooner crew member.
Through generous funding from our donors, we are able to offer many groups with greatly reduced cost to make our program affordable for most budgets.
Youth Sail Request Form            Parent/Guardian Permission Form
Schooner North Wind 
The Great Chesapeake Bay Schooner Race Education Program
The Schooner North Wind participants in the education program during the October Great Chesapeake Bay Schooner Race in Baltimore.    See the video here.
Youth Curriculum Aboard the Schooner North Wind
In addition to our several educational stations are described above, we can also offer longer term formats.  A detailed teaching curriculum has been developed as part of a Rowan University project, which is centered around the Schooner North Wind.  It entails Geology of the Delaware River, Delaware valley colonial history and the science and rudiments of sailing.
GC Sail is very willing to work with educational groups which would be interested in using all or part of this curriculum in conjunction with the Schooner North Wind.  Please contact us for further details.
The Curriculum can be viewed here.